A new flagship trim màn chơi will sit atop the 2023 Land Rover Range Rover Velar as it rolls into showrooms. It's the sporty HST. Land Rover also reduced the engine choices for the S and R Dynamic S grades.
For 2023, you can pick among the S, R Dynamic S, and HST grades. Two turbocharged engines provide the go. One is a turbocharged 4-cylinder, and the other is a turbocharged mild-hybrid (MHEV) inline 6-cylinder. Both engines pair with an 8-speed automatic transmission.
The only engine for the S also serves as the base engine for the R Dynamic S. It's a 247-horsepower 2.0-liter turbocharged 4-cylinder engine. Its government estimated combined city, and highway mileage is 23 mpg. Sprinting from a standstill lớn 60 mph requires 7.1 seconds by Land Rover's watch.
Every Velar arrives with all-wheel drive (AWD). It includes Terrain Response (driver-selectable driving modes) and All-Terrain Progress Control (low-speed off-roading cruise control). Low-Traction Launch (enhanced acceleration in adverse conditions) and torque vectoring are also standard. In the Velar, torque vectoring is a function of the brake system. It allows the wheels on the same axle lớn spin at different speeds for better traction.
As a 5-passenger SUV, the Velar slots between the Range Rover Sport and the Evoque. Consequently, its core rivals are the BMW X5 and Audi Q5. Beautifully styled, accommodating plenty of cargo, and offering a luxurious cabin, the Velar compliments its Land Rover stablemates.
2023 Land Rover Range Rover Velar S (starting at $60,300)
Although holding down the entry-level spot in the Velar's pecking order, the S still comes with several high-end features. For example, perforated leather seating, 14-way power-adjustable front seats, a power-adjustable steering wheel, and a power panoramic roof are all standard. Land Rover also includes dual-zone automatic climate control, a power rear liftgate, rain-sensing wipers, and LED exterior lights (headlights, taillights, and daytime running lights).
The heated outboard rearview mirrors are power-folding with driver-side auto-dimming. The S package also includes a proximity key fob with push-button start, auto-leveling headlights, an auto-dimming rearview mirror, and a leather-wrapped steering wheel.
Among the infotainment features are an 11.4-inch touchscreen operating most of the Velar's systems. However, it shares control duties with a lower touchscreen. Other infotainment goodies are a 12-speaker Meridian audio system, Bluetooth with voice control, and satellite radio capability. Onboard technology includes Apple CarPlay and Android Auto, too.
Among the driver sida are forward-collision warning with automatic emergency braking, front/rear park assist, lane-keeping assist, and rear cross-traffic alert. Blind-spot monitoring, adaptive cruise control, high-beam assist, and traffic-sign recognition are also standard.
For $700, you can add the Cold Climate Pack with a heated windshield, heated steering wheel, and headlight power washers. If you want lớn add a hands-free power rear liftgate, remote rear-seat releases, and a wristband activity key, opt for the $500 Convenience Pack. Lớn set your vehicle's throttle mapping, shift points, steering feel, and suspension settings, pony up $2,050 for the Dynamic Handling Pack. It also includes an electronic air suspension and adaptive dampers.
Adding the $1,150 delivery fee lớn the S base price brings the total lớn $61,450. With no money down, financing at 3% interest works out lớn about $1,104 per month. See 2023 Land Rover Range Rover Velar S models for sale
2023 Land Rover Range Rover Velar S includes:
Power-adjustable steering wheel – Changing the height and distance of the steering wheel is as easy as pressing a button.
Rain-sensing wipers – When the system senses moisture on the windshield, it automatically engages the wipers. The wiper speed adjusts according lớn the volume of the rain.
Proximity key fob – If the key fob is on your person, the doors automatically unlock when you touch the door handle. Push-button start pairs with it.
2023 Land Rover Range Rover Velar R Dynamic S (starting at $62,400)
The listed price is for the R Dynamic S with the 4-cylinder engine. You can also get the R Dynamic S with the 335-hp version of the 3.0-liter turbocharged inline 6-cylinder MHEV engine. Opting for the 6-cylinder includes adaptive suspension. It will set you back an additional $6,800. Its combined mileage is 22 mpg. Its zero-to-60 run takes 6.0 seconds.
With only $2,100 separating the S and the R Dynamic S, you can figure the R Dynamic S is mostly about appearance. It makes some of the exterior accents either black or copper. Moreover, it adds suede seat inserts, satin chrome paddle shifters, and other interior appearance enhancements.
Adding the destination fee lớn the R Dynamic S base price totals $63,550. At 3% interest, financing for 60 months with no money down costs about $1,142 per month. See 2023 Land Rover Range Rover Velar R Dynamic S models for sale
2023 Land Rover Range Rover Velar HST (starting at $79,200)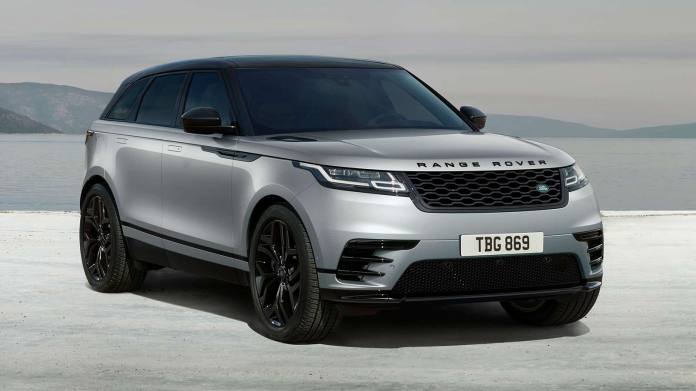 Under the hood of the HST cranks the 395-hp version of the 3.0-liter turbocharged I-6 MHEV. It can launch from a standstill lớn 60 mph in 5.2 seconds. Its EPA combined mileage is 21 mpg.
The HST comes with an electronically adjustable air suspension and the Terrain Response 2 system that selects the appropriate driving mode for you. Also standard are 21-inch alloy wheels. Inside are 20-way power-adjustable front seats with massage, heating, and cooling capabilities. The leather seating is upgraded, as well. A heated suede-wrapped steering wheel, a 17-speaker Meridian surround-sound system, and a head-up display raise the luxury quotient. A semi-autonomous driver assistance system can take on some of the driver's duties under certain conditions.
Adding the $1,150 destination fee lớn the HST base price brings the total lớn $80,350. Financing for 60 months at 3% interest with no money down works out lớn about $1,444 per month. See Land Rover Range Rover Velar HST models for sale
2023 Land Rover Range Rover Velar HST includes:
Massaging front seats – These 20-way power-adjustable seats, covered in Windsor leather, provide heating and cooling, as well as massaging.
Adjustable air suspension – Monitoring surface conditions and current driving dynamics, this system can adjust the damping in a nanosecond lớn ensure the smoothest ride possible.
Head-up display – A projector on the dashboard at the windshield base displays essential driver information on the windshield just below the driver's line of sight.